INTRODUCTION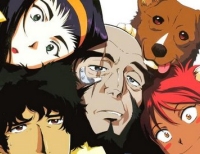 Gren appeared in episodes 12 and 13 (Jupiter Jazz parts 1&2) of the anime series Cowboy Bebop. If you haven't seen Cowboy Bebop I honestly suggest you should - it really lives up to all the hype that surrounds it. And now it's really affordable with the re-release of the series as part of the Anime Legends collection.
The series follows a group of bounty hunters in the near future. They all have their own agenda and are all very strong individuals, but circumstances bring them together and wackiness ensues! Well, sometimes things are downright heartbreaking, but each episode has its own unique style of storytelling and its own special charm.
My favourite, of course, is Jupiter Jazz. While watching a borrowed DVD back in the day I instantly loved the character of Gren; other series might have made him into a parody, but Cowboy Bebop portrayed him with grace and humanity and it really struck a chord with me. Not to mention he was just a genuinely sweet character in a very self-serving universe (and I'm a sucker for a tragic romance). At the time one of my major hobbies was making websites, so within hours I started making a site all about Gren.
So that's why this page exists, to show the world that Gren is a wonderful character and there is no reason for people to not love him dearly, flaws and all.
Please be aware that this site is filled with spoilers for Jupiter Jazz. You have been warned.
And just one more little note.. I've only seen the unedited version of Jupiter Jazz, and I don't support Cartoon Network editing certain scenes featuring Gren. I won't go into detail here, but you can always go to this site to see what you're missing if you've only seen the CN version.